What are Cell,
BMS, Module, and Pack?
Cell
Cells are the battery cells produced by specialized manufacturers. They come in a cylindrical, rectangular, or pouch shape, among others. They are made from diverse materials, which differ by application, operating environment, and required properties. They are also called unit cells.
BMS
(Battery management system)
BMS is a system that manages a battery through real-time monitoring of the lithium ion battery's input and output current, each cell's voltage and temperature, and other variables. It protects a battery pack from overcharge, over-discharge, overcurrent, and temperature/hardware abnormality. BMS is also capable of communicating data on the battery's state to external devices in addition to monitoring it.
Module (core pack)
A module is a cluster of cells (batteries) that are wired and combined with each other. Protective parts and a protective circuit are added to a module as necessary.
Pack
A module in an outer casing is called a pack. Packs are categorized into soft packs or hard packs depending on the outer casing material.
Battery pack as a finished product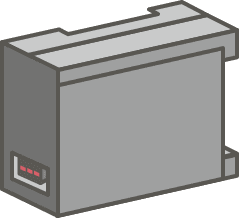 Internal structure of a battery pack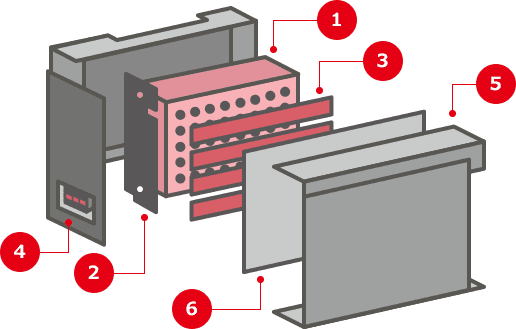 | No | Part names | Details / roles |
| --- | --- | --- |
| 1 | Battery cell | Lithium ion cell |
| 2 | BMS circuit | Monitors the cell's state for safety control and protection |
| 3 | Wiring parts | Connect cells in series and parallel |
| 4 | External terminals | Output terminals to external equipment (for output of electric power and communication signals) |
| 5 | Outer case | Protects the inside of the cell as its housing |
| 6 | Insulating parts | Keep insulating the outside and inside of the cell |