1. Safety and health
Mental health, health care
We provide mental and health education and consultations by industrial physicians, and focus on improving the work environment, health management, and work-life balance of employees.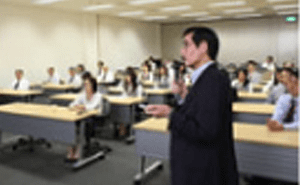 Disaster mitigation measures
We are also working on disaster mitigation in order to reduce damage in the event of an emergency.
Specifically, through workplace patrols by health and safety committee members, we check dangerous areas and provide guidance for improvement to reduce familiar dangers.
SECOM safety confirmation service
We have introduced a safety confirmation service of SECOM Trust Systems Co., Ltd. using WEB mail. We have introduced a safety confirmation system that can be expected to be more effective when calling is restricted than telephone lines, even in the event of a major disaster. This ensures a quick confirmation / reporting system even at midnight or on holidays, such as the safety of employees and their families, whether employees can come to work, and the condition of employees' homes.